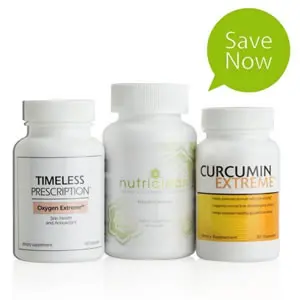 109.95 USD
Buy Now" will launch www.SHOP.com/chakra.
Complete Detoxification Kit
Benefits of Complete Detoxification Kit*:
Save money compared to purchasing these products separately!
Supports a healthy liver
Supports the body's natural ability to produce detoxification enzymes, which scavenge harmful toxins in the body
Helps to cleanse and detoxify the liver and blood
Helps excrete toxins that accumulate over time
Provides strong antioxidant protection and protects the body from the negative effects of free radicals
Supports healthy immune function
Promotes apoptosis in unhealthy cells
Helps maintain healthy glutathione levels
Supports normal glutathione synthesis
Key Ingredients found in Complete Detoxification Kit:
Timeless Prescription Oxygen Extreme:
Vitamin A (Beta-Carotene): 5000 IU
Vitamin C: 200 mg
Vitamin E: 30 IU
Selenium: 200 mcg
Bilberry: 25 mg
Green Tea Extract: 300 mg
Ginkgo Biloba: 50 mg
Milk Thistle: 50 mg
Curcumin Extreme:
Curcumin (BCM-95): 400 mg
Broccoli Seed Extract (6% Sulphoraphane Glucosinolates): 167 mg
Selenium (Selenomethionine): 100 mcg
NutriClean HepatoCleanse:
Milk Thistle Seed (extract standardized to 80% silymarin)
N-Acetyl-L-cysteine
Dandelion Root
Garlic Bulb
Hawthorn Berry Extract
Schizandra Chinensis Fruit and Seed Extract
Yellow Dock Root
Burdock Root
Licorice Root
Barberry Bark and Root
Rosemary Leaf
Ginger Root
Green Tea Leaf Extract
Hyssop (aerial parts)
Red Clover Flower
Turmeric Root Extract
Complete Ingredient Details of Complete Detoxification Kit
* These statements have not been evaluated by the Food and Drug Administration.
* This product is not intended to diagnose, treat, cure or prevent any disease.
Isotonic, which means "same pressure," bears the same chemical resemblance of the body's blood, plasma and tears. All fluids in the body have a certain concentration, referred to as osmotic pressure. The body's common osmotic pressure, which is isotonic, allows a consistent maintenance of body tissues. In order for a substance to be absorbed and used in the body's metabolism, it must be in an isotonic state.
Isotonix dietary supplements are delivered in an isotonic solution. This means that the body has less work to do to obtain maximum absorption of the nutrients. The isotonic state of the suspension allows nutrients to pass directly into the small intestine and rapidly absorb into the bloodstream. With Isotonix products, little nutritive value is lost, making the absorption of nutrients highly efficient while delivering maximum results.